I am writing today with so many thoughts, impressions and inspirations in my mind that I find that I am having a hard time putting them all into words. If you have followed this blog you have seen Manni and me going from desperation to hope to thankfulness and you will know that we try our hardest to make every day count, to make every moment last, and to just enjoy as much time together as possible.
The Virginia Tripawds Party was a climax for me. Being able to meet all the warriors who fight alongside  of me, who know that they most likely fight in vain in the long run – being able to be around people that have an understanding that nobody else does – was a sort of healing for myself for once. We weren't complete in Virginia though. Some people were missing that I would have loved to meet in person and of course dogs and cats were missing that will not come back in physical form and that all died a warriors' death.
Every person on this site is an inspiration. Every animal on this site is loved beyond words. Some are such an inspiration that they themselves and their stories will stay with us forever….
So, after this necessary (for me) foreword: any guesses as to what Manni and I were up to the last couple of days?? 🙂
No? Well, then guess who this is:
Did you guess it?? Did you?? Manni and I got to meet up with Teresa and Eurydice!! Only three of us were there in person, but Eurydice's present was felt everywhere. I made a secret out of this meet-up because I couldn't really believe that anyone could really be as brave as this woman and to go and meet another tripawd so soon… you know what I mean.
Eurydice's travels were such an inspiration to me that to this day I try and do the same for Manni -if on a slightly smaller scale. But then, as Auntie Teresa said: "Manni is TINY!" – so I guess it's only fitting if our travels are smaller, too. 🙂
Teresa is still taking Eurydice places and I am SO thankful I got to meet this woman on their way! We met up in central Germany, in a tiny village. (oh and for the record: no, Germany does not look like the Sound of Music everywhere. this is a stereotype of a village!! 🙂 )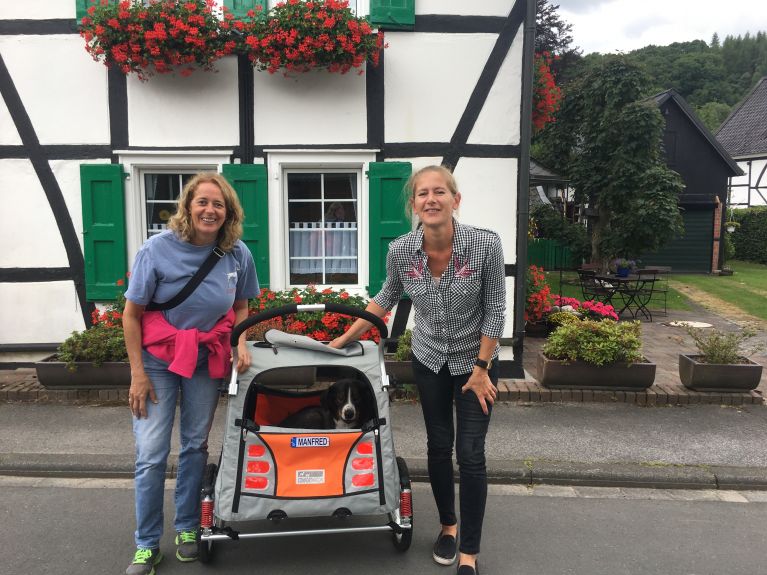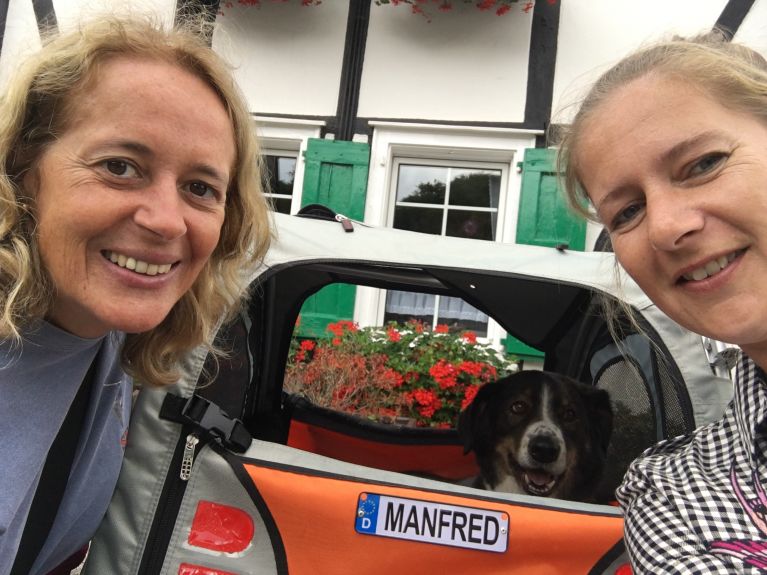 Not that this will come as a surprise to anyone but we got along fabulously. and we didn't only talk, laugh, cry, and eat, NOOOOOOO! Saturday came and we were on a mission of course!! What mission? Honestly?? Well, what do you think?? We had to go find us a copy of The Guardian, of course! So we went to the next bigger town, Solingen. It ended like this: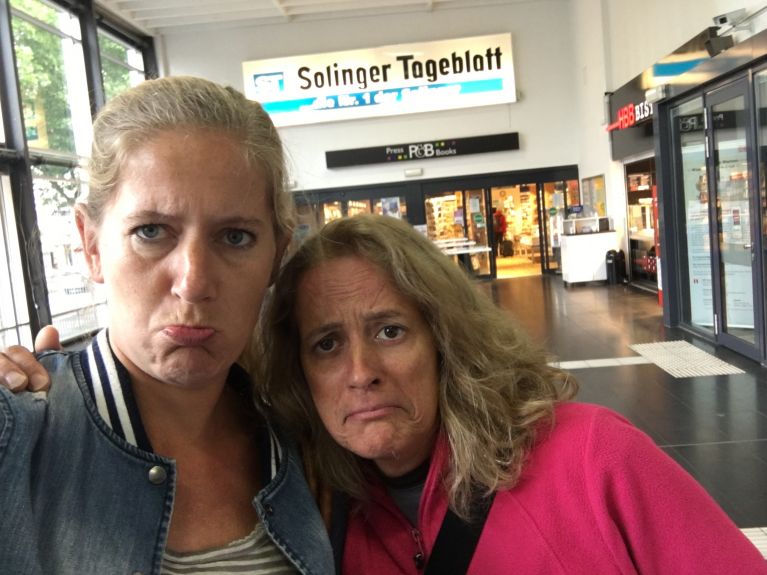 So apparently, a medium-sized town in Germany does not sell the Guardian but only the Solinger Tageblatt! Who'd have thought?? But did we give up?? Of course we didn't! We did what we always do: we continued traveling. We went to Düsseldorf! That is a huge city so we figured we would definitely get it there…
This is Düsseldorf: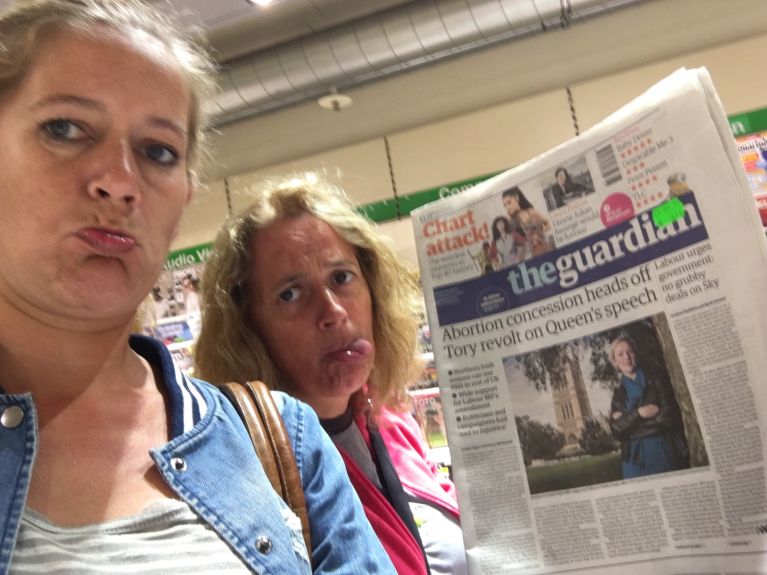 Yes! They found The Guardian! Um, no. Well yes, we did, but the wrong one, from the week before. They always get foreign newpapers a day later. -Apparently newspapers travel, too…
So for once we were unsuccessful, had to go empty-handed and had to resort to the online-version. Both of us vowed to not give up on the quest, though! Of course we did! We're used to not giving up! 🙂
So we went back to our tiny village and wonderful apartment and that when the traitor deserted me. The What? did What?, are you asking? Well, let me show you…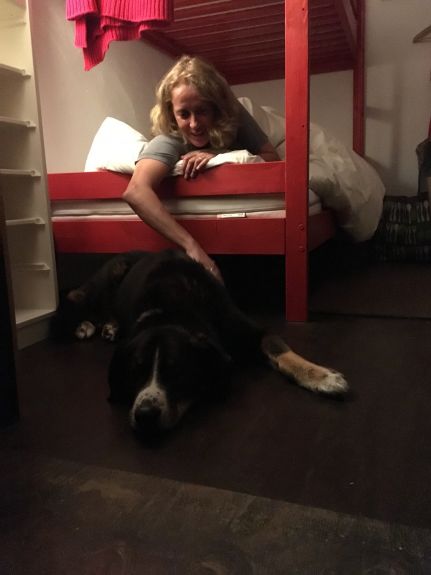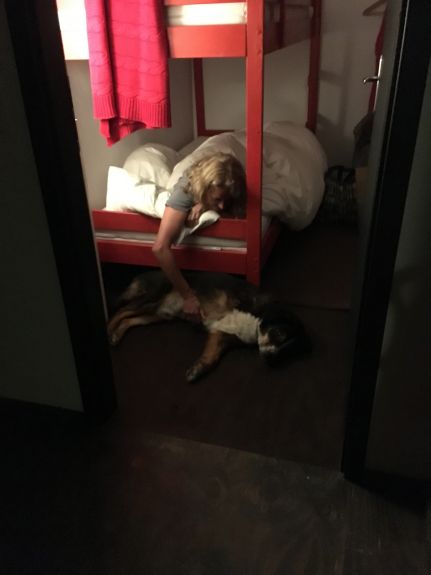 That was the last I saw of my dog for the night. Sometimes, it seems, our animals have more understanding of things than we do. (I was told the next morning that he even politely asked a couple of times during the night if he could share the bed with Auntie Teresa. Well, at least he showed some manners there…)
Teresa and I parted the next morning.  Both of us went back on the road again. But as with all of us here: this will not be a goodbye for ever. We will meet again. Too much binds us all together to lose sight of one another, as all of you know. I am in awe of the strong woman I got to meet and I am thankful for these past days. As I am thankful for all of you!I only wish I could have also met the famous Miss Cow in person and not only in spirit.
I will leave you tonight with an image of the traitor dog. As of tonight he is apparently trying to get a job at the circus…
Have three legs only, but will travel…