Hello good people of far away!
My mom gave me permission to take over her blog again (actually she said I am allowed to do anything I want nowadays). I have been meaning to give you a little lesson on the dangerous wildlife over here since apparently other people have been telling stories about things like vultures and Gators and banjos and other things I've never heard about so obviously these stories can't be true.
I have been meaning to tell you about this sooner but BOY! I just can't seem to get a rest at my palace! Me mom just never stops! I've been poked, pulled, pricked and prodded waaay too much, we're constantly going places and all she ever seems to be doing is take pictures. She calls it "capturing moments". Whatever that means. Also, I've had a few moments where I just wasn't feeling like doing much. I am thankful she lets me sleep at least during those times. Sleep makes everything better after all.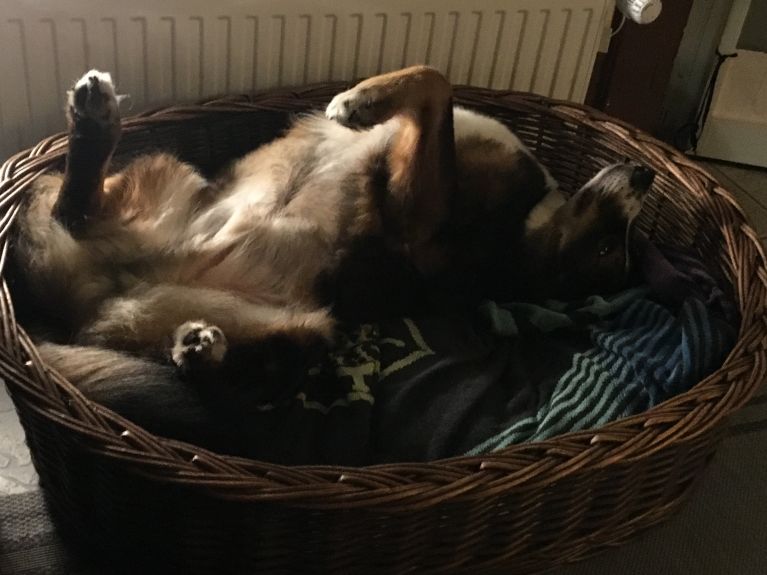 So when I'm not asleep the folks usually get one of my Royal Carriages and take me places, so I get around enough to be able to tell you A LOT about our dangerous wildlife!
I told you about the wabbits already. I don't think they are indigenous to here, I really do think they were sent all the way over the big water from Wooby Woo. Me mom told me all about that! But she caught them and we sent them back. So there!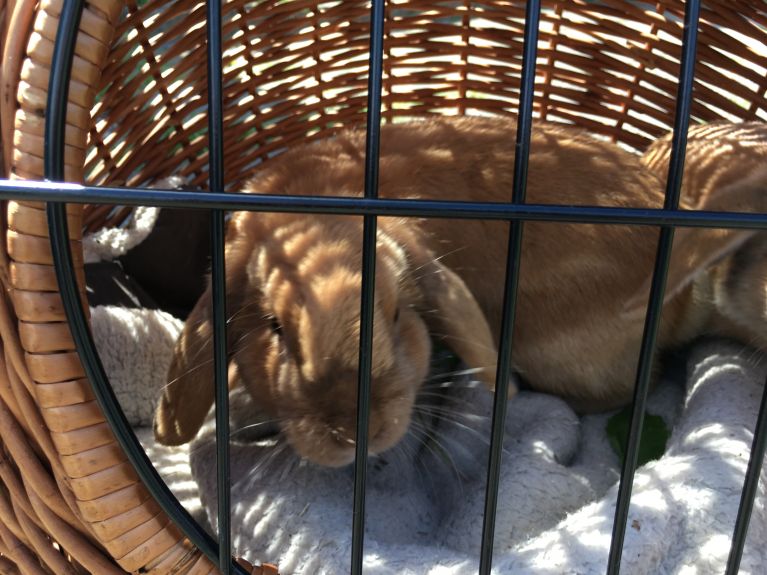 So one place where I like to go and make mom take me is my private beach. I mean, I own it after all, so we should go, right? Mom said it's a good workout for her to push me there in my carriage and I agree. I need her to be fit, nobody needs lazy jesters, right? So we had a nice relaxing morning there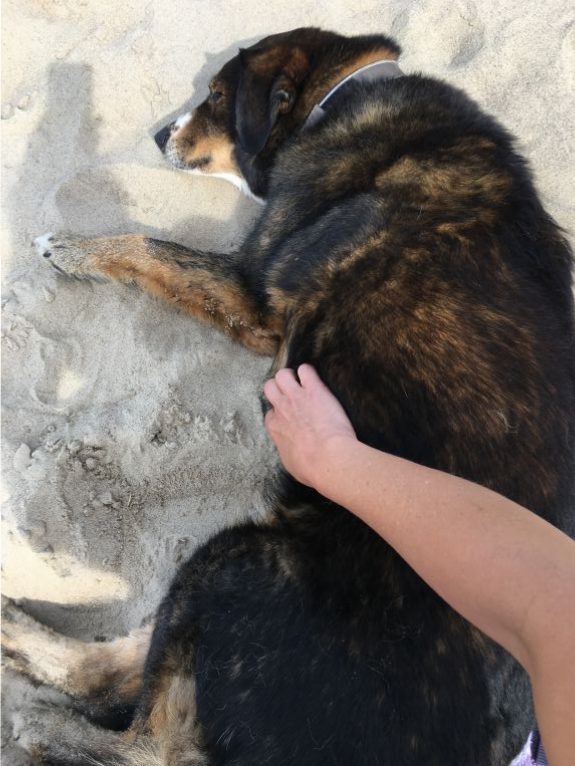 when all of a sudden I hear something:
I had to go look. Mom's good for a few things but guarding the properties isn't one of them. I almost couldn't believe my eyes! the gall!!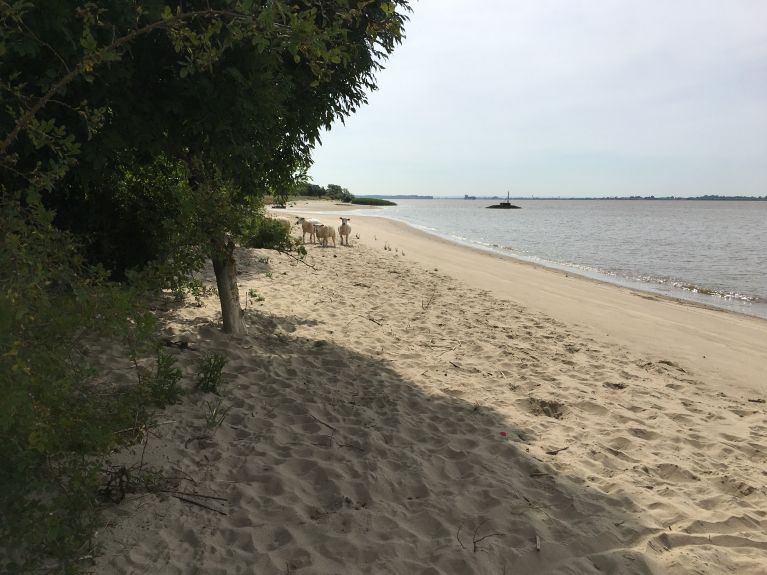 Sheep?? On my beach?? Wow. I was going to go after them and chase them back to the stupid levy they came from but my mom jumped up and tackled me to the ground. Can you imagine that?? The insolence of that!!
So a few days later we were out and about yet again and came upon two women who were walking what I at first thought were their rulers, I mean, dogs. Until we came closer…
Once again, mom interfered. Are you detecting a theme here, too?? She tells me I'm allowed to do everything I want from now on and it seems she's lying. I'll show her. I am scheming as I am writing this…
While I'm at it: a pretty regular part of the dangerous wildlife here is what I'll show you in the next two pictures. I think those pictures are old because I look a little different nowadays. I think. I was always gorgeous though, obviously that hasn't changed. The first one is an animal that I was made to grow up with. I had one of those as a friend for a long time but he's not around anymore. Don't know where he went. The dangerous bit about them is actually their breath. Let me tell you, those things always want to come close with their huge noses and blow their stinky, hot breath into my eyes! However, the rear part of those things can be pretty yummy in many aspects! See?
The next one is just, phew! I don't know. They must be indigenous because we see them all the time (mom calls them moohs) but they are SO sneaky!! You always have to watch your back(side) with them!
One of the most dangerous creatures of all of Germany lives in my yard. I am not kidding! I let him stay because, well, frankly? He can really hurt your nose. Not like the stinky-breath of the horsees does but in a prickly, ouchy kind of a way! Nowadays we've come to an agreement. I let him stay and ignore him and he doesn't hurt me. We're cool now. Can you say that about your dangerous animals? Huh? I'm a big diplomat, I am! That's an important skill to have! (Spread the word, friends 🙂 )
This is the way to go when practicing diplomacy: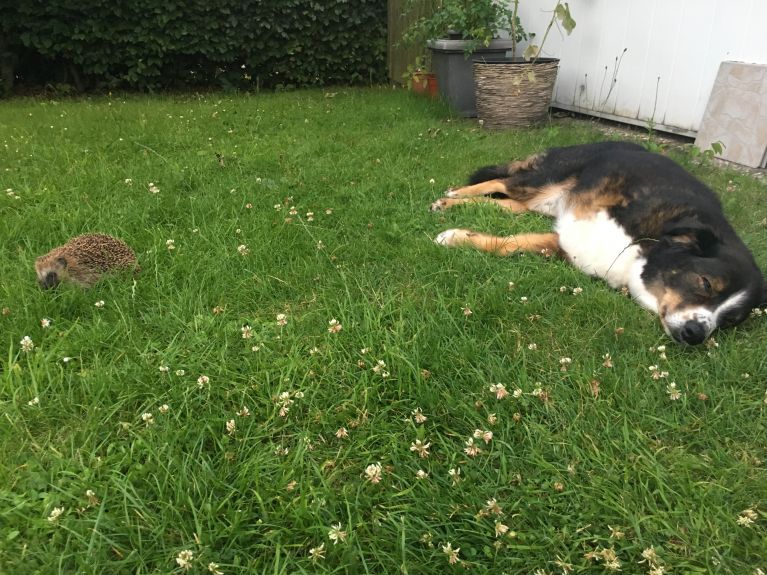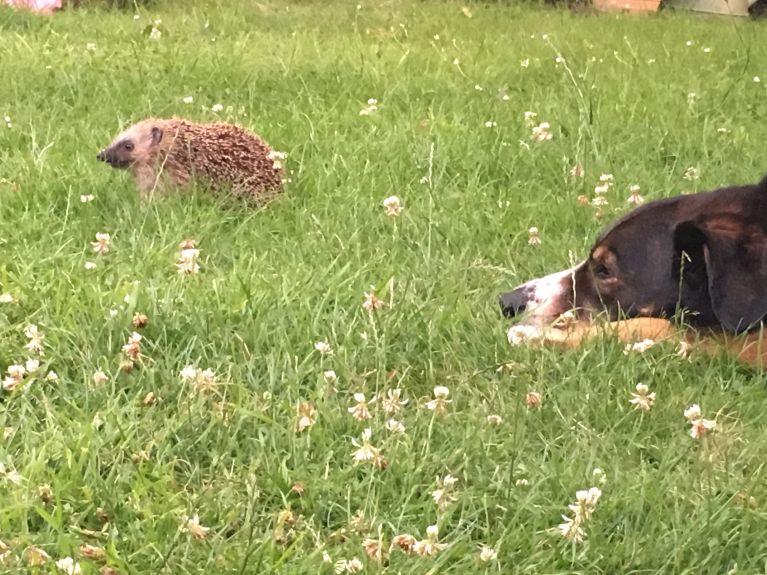 As you can see: Germany is full of dangerous things but I have mastered them all!!
One other thing that shows up in my yard pretty often (no idea where he and his kin come from) is a wild boar. I just kill it over and over again yet it still shows up. Oh well, I am not scared of that one so maybe it's not that dangerous after all.
Oh, I almost forgot! I wasn't allowed to get close but me mom was astonished when she found out the other day that apparently Germany also has water buffalos. I think they just looked like muddy moohs and they certainly smelled like them, too.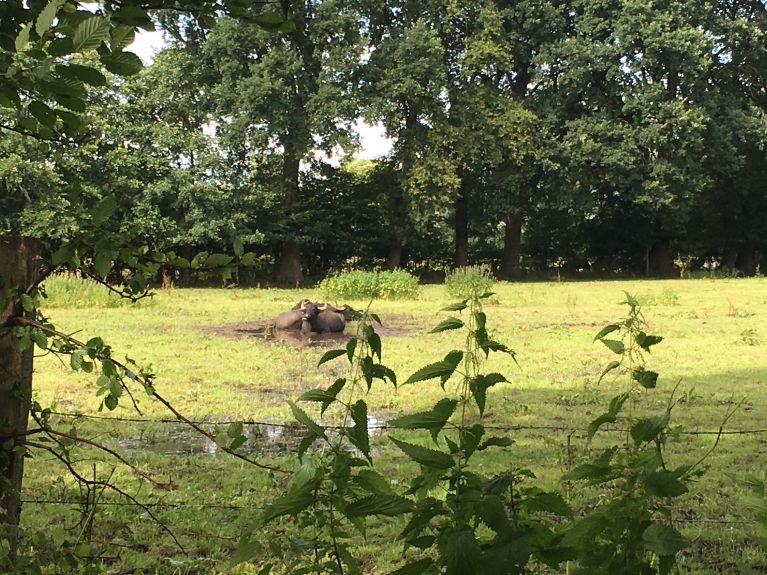 As you can see:
Germany's wildlife is SO much more dangerous than any of yours!! I mean, it must be, otherwise I would be somewhere else protecting everyone from it.
Phew. Remembering all of this was exhausting, I need to go back to sleep under my little leafy canopy in the yard. There also seems to be a little more air outside so I think I'm gonna head out.
I hope I get to take over this blog again, you just never know with mom.
goodbye folks from far away, in the hopes that you can now sleep soundly knowing I have everything under control (well, apart from me mom, maybe, but I'm working on that)
yours
Manni