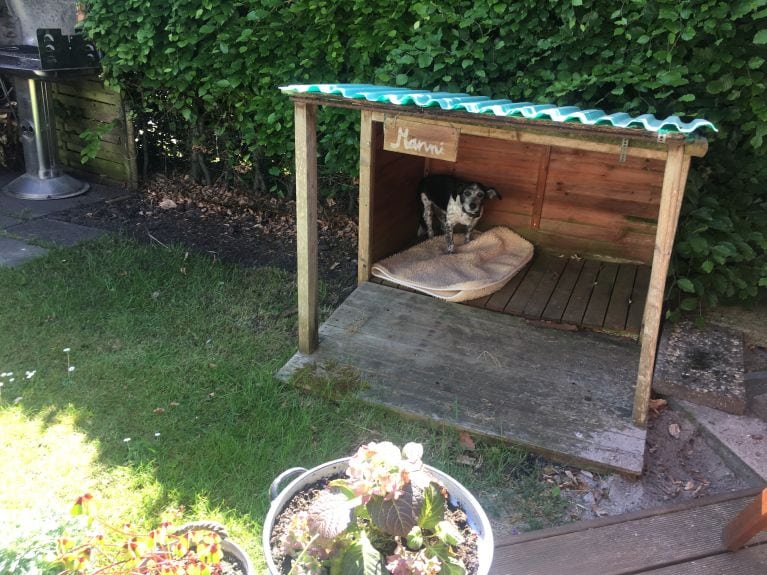 All the posts before this one just had a way of wanting to be written, of trying to find their way into words. This one, however, seems to be coy so you may have to bear with me a little while I struggle to pull it together.
I did not fall off the face of the earth although I do believe I saw the edge of it on occasion. I am sorry if I let some people down in the last few months, I promise to be in touch in a little while -you know who you are.
The picture you see here describes my life in a nutshell.
There is a big hole inside of me with Manni's name still on it but a little soul is trying very hard to fill it. The little soul's name is Thilo (pronounced Tee-low). He is from the streets, or rather, the woods of Portugal where he was caught by good folks who took care of his mange and his infected eyes.
To try and make a long story short: I ended up taking Thilo in as a temporary foster. After he had had been found climbing the 6-feet fence of the shelter they were looking for somebody to keep him for a week before he would go to his more permanent foster home and I felt it was a good opportunity for me to see how it would feel to have a different dog in Manni's home. I figured it was really a win-win situation: if it hurt too much, a week was survivable, if it felt good, well, maybe he would get to stay.
I picked him up at the airport and when he came out of his box he was even smaller than he'd looked in the pictures. 14 pounds of crooked legs and a wiener back. Considering he'd been living in a forest, not knowing what a home was he did amazing: while he was scared of doors, had to learn how to handle stairs and how to eat out of a bowl, he apparently simply decided to look to me for guidance. The first walks I took him on he stayed close to my legs but never once did he refuse to go anywhere or even so much as tug his tail. He literally just followed my lead.
When you go out to take a walk around your house you are bound to end up on the same routes that you used to take. When I found myself on the paths I would always take Manni on I had all these pictures flooding my head. I cried. A lot. I wanted to rewind the clock, turn back time and bury my nose in Manni's thick fur.
Instead I kept on walking. Now with a little lost soul to accompany mine.
I came to find out quickly that I am better with a dog. I am more with a dog. So now, I am a little more again because Thilo got to stay. I don't think my goal was to replace Manni, since really nothing or no one can but I do believe that since I have the right circumstances to give another shelter dog a home I should.
I do compare Manni and Thilo in that I find them to be as different as night and day. Manni was always independent as can be, strong-willed as anything, his own personality dancing to his own tune and I was lucky to be able to share some of his time. Thilo is actually thankful and adoring. He thinks the world of me and he's been trying his hardest to never let me down. His only issue really is a certain separation anxiety, apart from that he takes everything in stride and takes on each new challenge as long as I am by his side.
That, however, is as far as I go in my comparisons. Thilo does not have to live up to any great expectations or fill Manni's shoes. That would be utterly impossible and unfair so I don't even think along those lines. I compartmentalize completely. I can cry for Manni on my walks and yet simultaneously enjoy Thilo's adoration and exuberance. One has not a thing to do with the other.
You can call me a foster failure I suppose but my head had at least as much to do with the decision as my heart. I saw in Thilo early on that he had potential to do well in an office, maybe because of his age, and that he was still fit and agile enough -and brave enough- to keep up with my crazy life. I would never have kept either a puppy or a fearful dog.
However, Thilo is estimated to be around 10 – which leaves him only a few months younger than Manni was when I had to let him go. I did hesitate in my decision because of that factor but really only briefly: for one, I am hoping that such a small dog will be around for a few years more than a bigger one and also because Thilo deserves it, plain and simple. Every day he gets to have a home, a home with me, is one day more than he ever had so even if he ends up not getting all that many more days it will have been worth it. For both of us.
Apart from my life having been crazy for the last months, with new jobs, living in Berlin 4 out of 7 days a week and commuting with the dog by train twice a week, I still have a hard time coming here. I can't explain it and I am trying to get over it because I want to and because I owe so many of you. Many of you spent most of the two hardest years of my life with me, celebrated Manni with me and grieved with me and I miss you guys. So I will try and get over this. Watch this space.
I'll leave you with a few select pictures of Thilo (for the enlightened: I think Dobby would have been a good name, too…) and my promise to try harder.