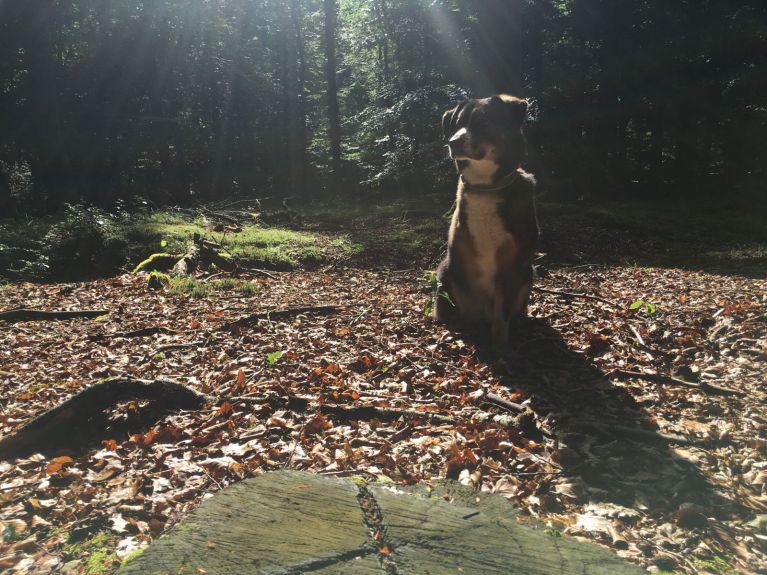 This is Manni. He lost his leg a year ago due to cancer and inspite of his chances of survival not being all that high, he goes on adventures and enjoys life to the fullest.
I just try to keep up and do the same.
After surviving the first few months of his life in the streets of Greece, Manni came to Germany as a rescue. Being a healthy mix of who knows how many breeds he was never ill in the first 8 years of his life. Shortly before his ninth birthday, however, he all of a sudden could only walk on three legs and even when lying down held one leg up because he was in so much pain.
At the vet clinic he was taken into the MRI after no medication, not even opiates, helped with the pain. then came the horrible news: "Manni has bone cancer, osteosarcoma, and we did not even wake him up because he is just in too much pain. It's either amputate or letting him go".
Honestly? You want me to make that decision out of the blue in, like, ten minutes? Wow.
Give Manni a fighting chance on three legs, with risking a lot more pain, falls and possible trauma? Putting him down at the peak of his life but sparing him from further pain?
What is the right decision for the dog and not the owner??
To me, and to this day, it comes down to this question.
I decided to give it a try. Because you can only put an animal down once, can't you?
But I also, in my mind, gave Manni four weeks to manage. Basically, if I felt after 4 weeks that he was not doing ok, I would have had him put down then.
And it was close, to be honest. The first 2 weeks were horrible. If I had known that before, well… but what really made all the difference was getting him motivated again. In Manni's case motivation came in the form of his big doggy love Lilly, our neighbor's dog. The poor man had to bring his dog over three times a day so mine would go outside. From then on, improvement was constant, except for the phantom pains that stayed with us for 6 months before slowly disappearing. Physical therapy and training made for additional improvement, balance and power.
We just had our 12-months x-rays taken. I expected the absolute worst, was entirely sure of it, BUT!!! so far, we are all clear!!!! 12 months!!! Going strong.
Today, we enjoy each other's company more than ever before and cherish each moment together. While all the odds are against us and the likelihood of metastases is extremely high, the bond between us has never been stronger and our adventures together never more beautiful.
What I will ever do without him, I don't know. But we are not there yet. Strive to survive.