A very Happy New Year to each and every one of you!
Almost right on time for Christmas Manni got a package from overseas and is now the proud owner of Tripawds bandannas! Thanks again guys, we'll spread the word!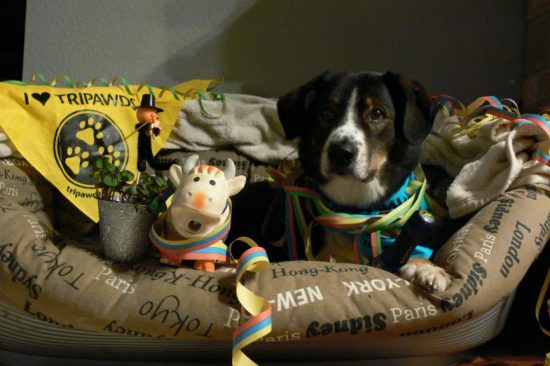 While Manni is probably pretty much the coolest dog when it comes to New Year's Eve and fireworks, all of us hate it. I have never seen the point in making so much unnecessary noise. Manni is not scared at all (although he does find the whole shenanigans at midnight strange), he would just REALLY like to go outside and KILL THE THINGS that make all that noise and the weird light… literally. He would go after them if he could. I told him that we don't have another spare limb for him and kept him leashed. I, however, get even more annoyed with all the noise and decided that this year we are definitely going away to somewhere quiet. So. That's decided.
On a more serious note:
Everybody these days writes and talks about how 2016 was pretty bad for them and the new year can only get better. After this whole ordeal with the surgery and the aftermath I am not all that positively inclined to be honest. I know we have a lot to be thankful for. And still having Manni here is definitely the biggest thing. However, and I am sure some of you feel the same way if your dog was amputated due to cancer: my hopes are just not all that high. I expect metastasis to pop up any day and I am convinced that 2017 will be the year that I lose my baby.
As always, however, there is nothing left for us but to carry on and on and create the most beautiful and best memories together so that they may last at least a lifetime.
All the best to everyone in this special community. May you have the best 2017 possible.
I love you, pooch.
Tina